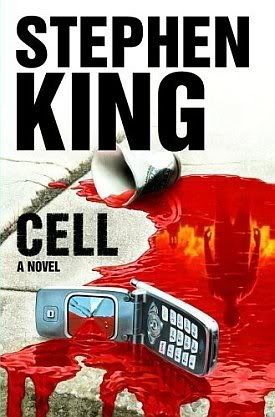 Cell
by Stephen King is terrifying yet heartwrenching. There were moments that completely grossed me out and others that literally made me cry ( I get attached to my fictional characters) but every moment had me on the edge of my seat.
After sealing the deal on his latest comic book creation, Clay Riddell is overjoyed and feeling triumphant as he strolls through Boston, ready to make his way home to Maine. But his joy is shortlived. A pulse seems to be emitted from every cell phone in the world, causings it's listeners to go insane and eventually become zombies who kill anyone in their way.
After meeting up with survivors Tom McCourt and Alice Maxwell, the band of three make their way from Boston to Maine with hopes of finding Clay's son Johnny and wife Sharon. But the journey is long and difficult, especially since the zombie-like creatures seem to be evolving and their spokesperson, dubbed The Raggedy Man, seems to be controlling the dreams and actions of those who were not changed after the pulse.
I loved this book! My only problem with it is that *SPOILER* you never learn who or what caused the pulse to begin with. But with that being said I thought this book is one of the best Stephen King books thus far. Incredibly written, perfect plot, wonderfully detailed, and just all around fantastic.
The characters in this book really grab you and pull you into the story. They are diverse yet, through their goals and terrors, they are the same. There are characters that make you love them and characters that make you loath them. But ALL of them make you feel something.
I highly recommend this book to zombie lovers as well as people who enjoy post apocalyptic stories, and of course readers who love other works by Stephen King.