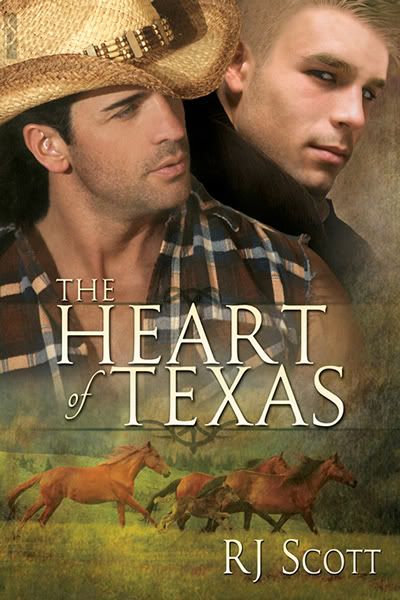 This is the first m/m romance that I have ever read and I am now a fan for life. When my very best friend Heather told me that it was like "an episode of Dallas" I moved
The Heart of Texas
to the top of my reading list and was very glad to have done so (thanks for the advice Heather, you are awesome). This story has all the drama you could want and more. I found myself literally gasping at some of the surprises this story had for me. It's so great I might even read it a second time (something I never do).
When playboy Riley Hayes is cheated out of his portion of the Hayes company he makes it his mission to gain what is rightfully his while doing everything he can to irritate his father. A simple stipulation is set: the portions of Hayes Oil will be redistributed should Riley wed for love and remain married for the duration of one year. After dubbing this a ridiculous requirement Riley does something that he knows will anger his father while it still fits within the agreement of the contract- he marries Jack Campbell, the son of the family's arch rival. After blackmailing Jack into one year of marriage Riley discovers that he not only has it within him to be a good person and to fall in love with a man but he has become a good person because of Jack and has fallen in love with him because of it. Could Jack possibly love Riley after everything he and his family have put the Campbell family through?
Filled with lies, deceit, murder, vengence, lust, love, violence, blackmailing, stuggle for power, cowboys, and tycoons
The Heart of Texas
has everything a reader could possibly want in a novel. I know that some readers might be leary about reading an m/m romance if they have not read one previously but trust me it is a fantastic read which I highly recommend.
The characters are incredible. RJ Scott does an amazing job of making you love the compassionate characters and hate the downright dirty stinking evil characters. I was very impressed that RJ Scott, being a woman, was able to write from a homosexual male perspective and make it so believable. Truly a very well written and plotted out story.
There is not a single dull moment in this book and in the conflict resolution as well as character development throughout the plot is impeccable. The scenery makes you feel like you are (no pun intended) in the heart of Texas and each chapter makes you want to delve deeper and deeper into the lives and of Hayeses and Campbells.This is truly one of the best constructed stories that I have had the pleasure to read and I highly recommend it.
Again, this story may not be for everyone but I recommend that you at least give it a shot because it is incredibly well written and imaginitive with the perfect amount of lust, love, betrayl, and tension.